If you have been finding it difficult to find the things you need when you are in the kitchen or if you feel the kitchen is cluttered and items have gone missing, then this may be a sign that you need to organize the kitchen. 
Coming into an unorganized kitchen can take the fun away from the entire process of cooking and instead replace it with frustration. Therefore, to make sure that you enjoy the process of cooking it is a good idea to organize the kitchen.
What you don't need
Throwing away what you do not need is the first step to organizing the kitchen. By throwing items away you will automatically be creating room for the items that you do need. For example, if you want to purchase commercial kitchen equipment you need to find a place to store it. By cleaning out the kitchen and throwing away what you do not need you are making room for the items that you need.
Close proximity
When organizing it is a good idea to try and keep things in close proximity. For example, keeping the cutting board next to the knives makes a lot more sense rather than hiding the cutting board away in a cupboard away from the knives. 
Having a stack of kitchen towels next to the sink is a good idea. This is because after washing your hands, if the kitchen towels are kept on the opposite side of the sink, then you will have to walk in order to get the kitchen towels. 
This means that water can drop onto the ground until you reach the towels. However, having the kitchen towels right next to the sink will result in you only having to reach for the towels without moving an inch and therefore no water will fall onto the ground from your hands.
Labels
Having items such as condiments labeled is a good idea. When you are cooking and especially when you are cooking in a rush, it can be easy to mix up the condiments. Therefore, to make sure that you do not use salt instead of pepper, labeling the jars in which the condiments are stored in is a good idea.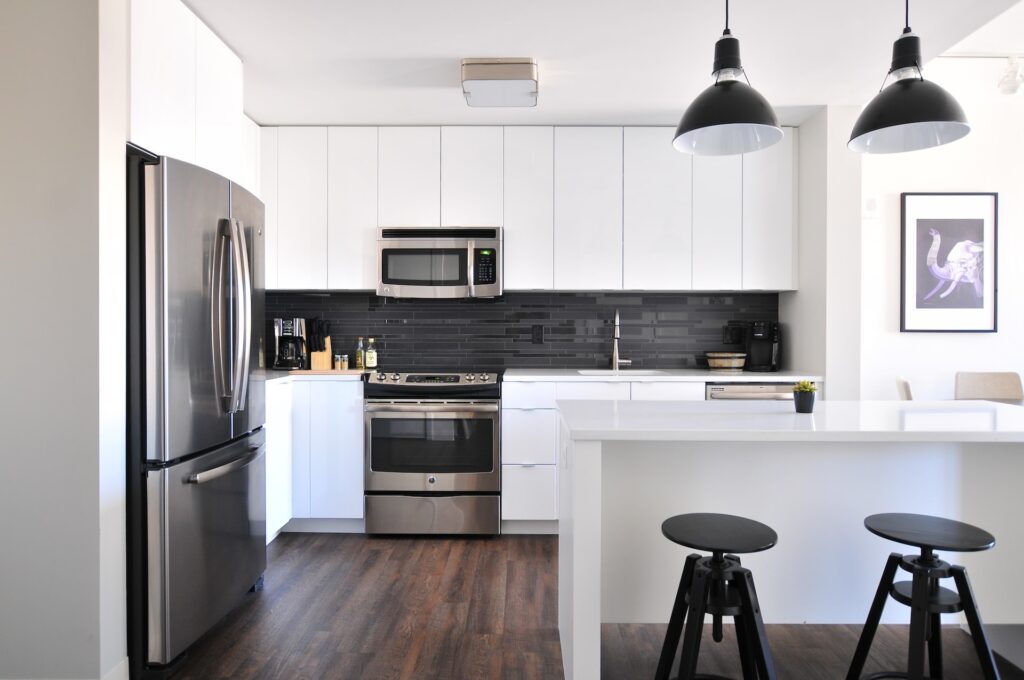 Clutter
When you are arranging the furniture in the kitchen it will be a good idea to arrange it in a way that does not take up a lot of space. For example, while cooking you will have to be moving around a lot. Having tables and chairs located all over the kitchen will make it hard for you not to bump into something. Therefore, try and reduce having unnecessary chairs or stools around as this will aid in creating more space for you to comfortably move around when cooking.
Fix broken cabinets
Fixing broken cabinets and drawers is important. For example, if you have a broken drawer or cabinet in the kitchen which at times gets stuck making it difficult to open, this can take up a lot of your time. Therefore, it will force you to stay in the kitchen longer than you have to. 
This is because instead of cooking and finishing the meal you have to attend to the stuck drawer. There is also a chance that the food could get burnt or even overcooked as you will be taking your attention away from the meal in order to attend to the stuck drawer.